OUR COURSES
Come on one of our courses and you'll learn how to design around your customer. You'll try out proven tools on real-life challenges. You'll develop practical skills you can apply tomorrow. And you'll leave with the know-how and confidence to drive change across your organisation.

Design Thinkers
Bootcamp
5 Days
Join us on our intensive Bootcamp and you'll explore every stage of the design and innovation cycle. You'll build your knowledge, from user-centric research to prototyping ideas to the final pitch.
View course
Team
Joe Ferry
Brand & experience architect
Becky Rowe
Ethnography & research guru
Revealing Reality
Clive Grinyer
Consultant
David Kester
Design evangelist & orchestrator
Design Thinkers Academy
Arnoud Koning
Design thinking champion
Procter & Gamble
Holly May Mahoney
Design Lead
Design Thinkers Academy
Belinda Abbott
Head of Faculty
Design Thinkers Academy
Shanna Bent
Customer Relationship Coordinator
Design Thinkers Academy
Blythe Wild
Programme Coordinator
Design Thinkers Academy
Next course
3rd – 7th June
09.00 – 18:00
1-2 Silex St, London
Tailor a course
BESPOKE COURSES
We have a long track record of designing customised courses for business. You can tailor any of our open courses for your organisation. Ask us to run a one-off stimulus workshop, train your leaders in design thinking or help you build an innovation culture across your business.
Contact us
Companies graduated

Companies graduated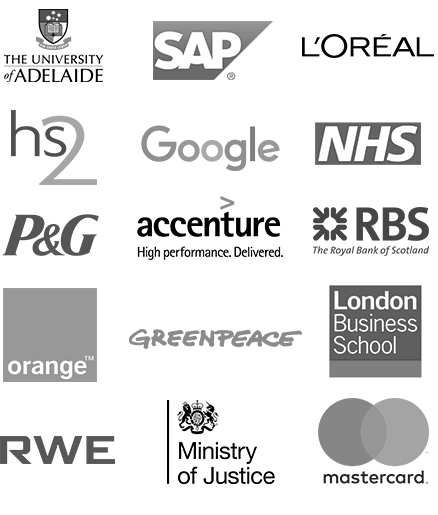 I left this course feeling genuinely empowered to change the way we do things for the better. Thank you!
Toby Garrood, Consultant Rheumatologist at Guy's and St Thomas' (NHS Foundation Trust)
This bootcamp made me live and breath design thinking and it wouldn't have been possible without David and the eminent coaches.
Kranthi Bairi, Head of Delivery, Atos
At the Design Thinkers Bootcamp I discovered a whole set of tools that I could put into action immediately.
Cécile Michel, Alstom Transport
The Design Thinkers Bootcamp gives you the means and the confidence to redesign services around the customer and bring fresh insight into a business.
Cecilia Makinde, Zurich Life
The Design Thinkers Academy is all you need to start changing your company's design culture.
Miquel Mora, Technicolor
The Design Thinkers Academy courses will change your perspective and deepen your customer insights.
Robin Mahadeo, PricewaterhouseCoopers UK
Related courses in our network
Music Thinking
Course

Design Thinking

Next course

9th May

09.00-18.00 Amsterdam

Register interest

Employee Experience

Design Thinking

Next course

23rd May

08.00-18.00 Cape Town

Register interest

Fundamentals
Design Thinking

Design Thinking

Next course

9th July

09.00-18.00 New York

Register interest