OUR COURSES
Come on one of our Design Thinking courses and learn how to design around your customer. You'll try out proven tools on real-life challenges and develop practical skills you can apply tomorrow. Leave with the know-how and confidence to drive change across your organisation.
We offer year round Design Thinking courses, so if the dates below do not fit your schedule, please get in touch and we can find the right course for you.



Design Thinking Fundamentals
2 Days
Our fast-paced course is the perfect introduction to the Design Thinking essentials. In just two days you'll be equipped with all the foundational knowledge and tools you need to kick-start your own Design Thinking journey.
View course
Team
Catherine Collins
Service Designer and Facilitator
Moxie
Susana Osório
Learning Designer
Design Thinkers Academy London
Next course
16th – 17th September
09.00 – 18.00
Shoreditch Loft, London
Tailor a course today
ONLINE COURSES
We now offer online Design Thinking courses to help companies and individuals continue innovating in the current climate. Our online courses have a 100% recommendation rate with delegates from Johnson & Johnson, Allianz and more. These courses give attendees the opportunity to learn Design Thinking from their own home, through live, interactive sessions, working alongside our expert coaches.
Find out more
Companies graduated

Companies graduated from our Design Thinking courses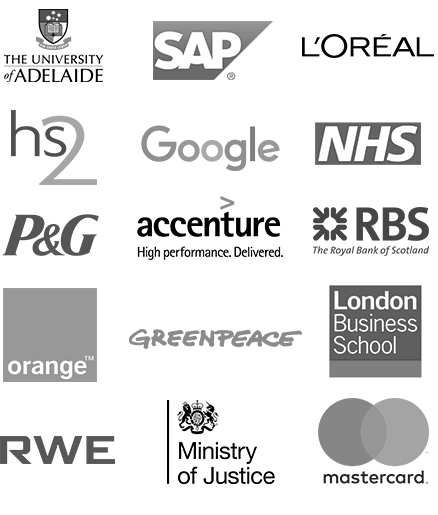 I left this course feeling genuinely empowered to change the way we do things for the better. Thank you!
Toby Garrood, Consultant Rheumatologist at Guy's and St Thomas' (NHS Foundation Trust)
This bootcamp made me live and breath design thinking and it wouldn't have been possible without David and the eminent coaches.
Kranthi Bairi, Head of Delivery, Atos
At the Design Thinkers Bootcamp I discovered a whole set of tools that I could put into action immediately.
Cécile Michel, Alstom Transport
The Design Thinkers Bootcamp gives you the means and the confidence to redesign services around the customer and bring fresh insight into a business.
Cecilia Makinde, Zurich Life
The Design Thinkers Academy is all you need to start changing your company's design culture.
Miquel Mora, Technicolor
The Design Thinkers Academy courses will change your perspective and deepen your customer insights.
Robin Mahadeo, PricewaterhouseCoopers UK
Online Design Thinking Courses
Online Design Thinking Fundamentals

18 hours of live sessions with our coaches

Next course

18 August - 8 session course

09:30 – 11:30 (CEST) Online course via Zoom and Miro.

Register interest