Design your way to customer retention
By Susanna and Lalita | Posted on Jan 26th 2017
How do you hold on to customers when their wants and needs are more sophisticated than ever? Retail consultants Lalita Lee and Susanna Enrico Gansin explain how they use design thinking strategies to help attract and retain customers. And why it's crucial to consider the 'hidden customer'.
The 21st century customer has evolved in their purchasing behaviours as rapidly as technology has changed our world today. From showrooming to a convenient click to add to cart, are customers no longer loyal? How do we retain them?
In the customer's shoes
With travel made easy today and the accessibility of information through different online and offline sources, the (global) customer is not only well informed but also has evolved in sophistication. In the world of omni-channel retail, we are spoilt with choices of product offerings and promotions available to us. Travelling from Bond Street in London to Canton Road in Hong Kong, we are exposed to similar brands, displays, products etc. Being swamped with a sea of similarities, we are struggling to find uniqueness: a personal customer experience.
Design thinking in retail
If you read different books and speak to different practitioners, you will know that there are many ways to describe design thinking. To describe it for retail, it is a holistic approach considering all key stakeholders with a customer-centric focus. Loosely translated this means: 'what are your customer's real pain points and expectations, and what are the different departments involved in the organisation to address these. Surprise – it does not only rely on employees in the stores.
The paradox of retail organisations is that different corporate departments work in parallel with each other to provide strategies, communication and training to stores while store management needs to be joined-up. Poor internal communication within the organisation means store managers must sift through and connect the dots within the information. Naturally, this is a recipe for conflicts, ineffectiveness and inefficiencies.
We apply design thinking with our clients for many reasons, such as:
– Changing the mind set of their employees with a shift to customer-centricity
– Discovering the 'pains' of their customers and the touchpoints for customer satisfaction
– Creating a collaborative working culture among the different departments
However, the main reason is to design a sustainable change.
In every intervention with our clients, change will be introduced within the organisation. Change is never easy, but it can be made possible when we consider all the stakeholders. Through design thinking, we can identify and prioritise the areas of intervention required, and at the same time, with the understanding of the different stakeholders' values, it will support an effective sell-in to them to ensure durability of the changes.
The hidden customer
While most will design a customer journey map based on the end-customers, we design an additional map for 'hidden customers' in the retail industry. They are the key to ensuring consistency of brand strategies and communication to the end-user. They are the human touchpoints between the brand and the customer. Such individuals can be sales associates, customer service representatives, bank tellers etc.
They are also known as the forgotten heroes of the retail industry. Their interaction is often the most important and lasting experience for end-customers, be it good or bad, and therefore it is important to consider them. Quoting Richard Branson, CEO of Virgin:  "The formula is very simple: Happy employees equal happy customers. Similarly, an unhappy employee can ruin the brand experience for not just one, but numerous customers."
Consideration of these hidden customers allows us to design better processes and materials for a sustainable change, and may help improve and effectively manage the typically high employee turnover rate within the retail industry.
A Case Study
THE CLIENT: a global fashion group that is amongst the leading players in the world of luxury goods, with multiple brands under their umbrella and a distribution network spread throughout Europe, America, Asia and the Middle East.
THE CHALLENGE: the context is the growing challenges of the global economy, such as volatility in the currency market, migration of tourists to the next shopping destination and so on. The client needs their retail stores to be proactive, ready to react to market changes and understand their users on a strategic level. They would like to consolidate their effort as a group to increase and maintain turnover from loyal customers.
THE OBJECTIVES: To utilise CRM (Customer Relationship Management) to sell and engage with the customer more effectively, and not treating CRM just as a marketing tool or database system:
– how to promote CRM benefits like a product
– how to convert the customer to join the CRM system (even if they are a non-purchasing customer)
– how to utilise and maximise the CRM tools to sell better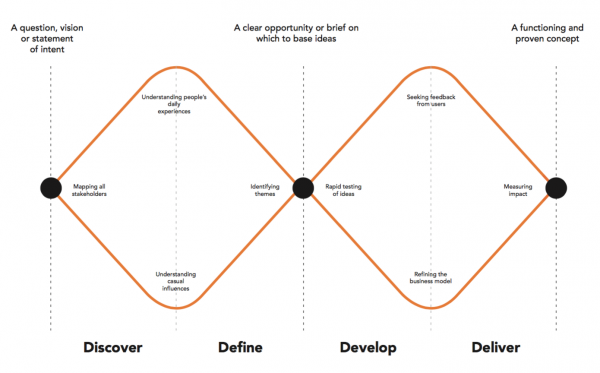 THE MAIN ACTIVITIES: We used the double diamond design technique, which differentiates four different stages of the design process, to tackle this challenge. We kicked-off the project with a user-centric approach by collaborating with all the key stakeholders: different brand managers and the global function departments (CRM, retail and training). With the collaborative support from the different stakeholders, we were able to design materials that aimed to enhance the selling experience of the sales associates and the shopping experience of the customers.
THE RESULT: that supports the different regions with their different needs; regions who are more advanced will extract and adapt the kit to their local training activities while regions who require more support will be able to utilise the kit as is. Since the project has kicked off, all regions have significantly improved and achieved their targets (reachable clients, number of clients converted into repeaters and retention rate) set out by the head office.
Lalita Lee is a senior consultant and service designer in retail experience and management, with a background in marketing and communications. Lalita is currently a consultant at MIDA in Italy, specialising in Human-Human Interaction and Design in Retail. Her clients include some of the top fashion and luxury brands.
Susanna Enrico Gansin is a senior consultant and service designer in retail experience and management, with an extensive knowledge of the fashion and luxury industries. Before joining the MIDA consulting team, she worked with Loro Piana, Prada and Hugo Boss, covering different aspects of sales, marketing and retail training.
Pictures of Lalita and Susanna were taken during the bootcamp. Graphics were provided by Susanna and Lalita and Design Thinkers Academy (double diamond). The featured image of the article was found on Unsplash, a free high-resolution photo library.