About us
We harness the power of design to drive meaningful change. We set design strategy, shape user-centred services, kickstart projects and coach teams to stimulate innovation and solve problems.
More about us

We're the UK arm of the Design Thinkers Academy, a training organisation for business. With an extended family of coaches at the frontline of innovation, we transform the way leaders think. Since we were founded in the Netherlands in 2011, we've helped hundreds of companies integrate Design Thinking within their organisations and run courses around the world.
To navigate the complexities of advancing technology and increased competition, we need to become more agile and adopt an innovation culture. Design Thinking drives us to look through the eyes of our customers.
It provides the connection between creativity and innovation. It gives us a solution-based approach to solving problems. Increasingly being adopted by some of the most successful businesses in the world, Design Thinking opens up new ways of approaching complex problems, enabling companies to serve the needs of users today and in the future.
The impact of Design Thinking in business:
Design-led companies outperformed the S&P index by 219% over 10 years.
McKinsey studied 300 public companies over 5 years and those that were most skilled at executing design principles achieved 32% more revenue and 52% more total returns to shareholders.
IBM report showed that teams who used Design Thinking did better user research and thus reduced the product development and testing time by 33%, making savings of up to $1.1M.
A photographer's studio in Amsterdam was the setting for the very first Design Thinkers Bootcamp in 2011. It was the brainchild of leading Dutch design thinkers Marjo Staring, Arne van Oosterom and Tim Schuurman. One of the coaches was David Kester, former CEO of the UK Design Council and founder of DK&A, a strategic consultancy that helps clients to innovate and improve the services they offer. Over the week-long Bootcamp, the four of them were delighted as 30 business executives from 15 countries became design thinkers. Together, they resolved to build a centre of excellence for design thinking in Europe. And in 2016, the Design Thinkers Academy London was born.
Meet the team
Companies graduated
Companies graduated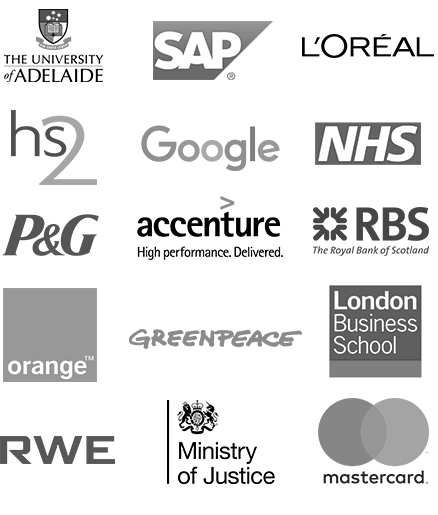 The Design Thinkers Academy courses will change your perspective and deepen your customer insights.
Robin Mahadeo, PricewaterhouseCoopers UK
The Design Thinkers Academy is all you need to start changing your company's design culture.
Miquel Mora, Technicolor
At the Design Thinkers Bootcamp I discovered a whole set of tools that I could put into action immediately.
Cécile Michel, Alstom Transport
The Design Thinkers Bootcamp gives you the means and the confidence to redesign services around the customer and bring fresh insight into a business.
Cecilia Makinde, Zurich Life
This bootcamp made me live and breath design thinking and it wouldn't have been possible without David and the eminent coaches.
Kranthi Bairi, Head of Delivery, Atos
I left this course feeling genuinely empowered to change the way we do things for the better. Thank you!
Toby Garrood, Consultant Rheumatologist at Guy's and St Thomas' (NHS Foundation Trust)
Subscribe to Newsletter
Contact us
Not ready to book?
Or interested in a course that's customised for your business?
We're here to help if you'd like to find out more.
Get in touch
+44 (0) 20 8432 3222 | info@designthinkersacademy.co.uk